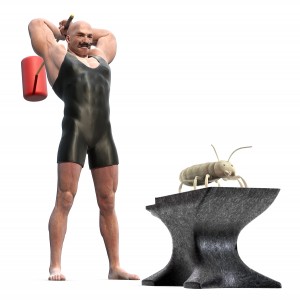 Simple Ways to Pest-Proof Your Home
Looking for this article? Subterranean Termite Swarming Season Ahead
Don't be drastic! There are simple, effective measures you can implement to decrease the number of pests invading your home.[/caption] We are often asked here at Macy's "How do I pest-proof my home?" There are some effective steps you can take to keep those pests outside where they belong! (You're on your own though when it comes to your pesky in-laws!)
Eliminate, Eliminate, Eliminate!
The word to remember in order to pest-proof your home is eliminate! Bugs are drawn to certain things and by eliminating these attractions, you can greatly reduce the number of bugs in your home. Tackle any problems before they become too overwhelming. Using these few simple steps can go a long way in preventing an infestation in your precious home!
Eliminate water. Remove standing water outside & inside your home— outside from bird baths, gutters, wheelbarrows, and inside from sinks and showers. Fix leaky pipes that may provide a water source for these little pests.
Eliminate food. Keep that kitchen clean! Bugs live for crumbs and tidbits and will settle down comfortably where they can find them frequently. Sweep the kitchen floor nightly and store food in tightly sealed containers.
Eliminate cracks & crevices. Pests can be very creative when it comes to finding ways into your house. Any type of crack or crevice is a potential doorway for them to enter your home. Use caulk from your local hardware store to seal up any cracks and crevices.
If bugs have found a way into your home and you would like to get rid of them immediately, contact us today. We are the green leader in organic pest control and are here to serve you!
« Back to Blog