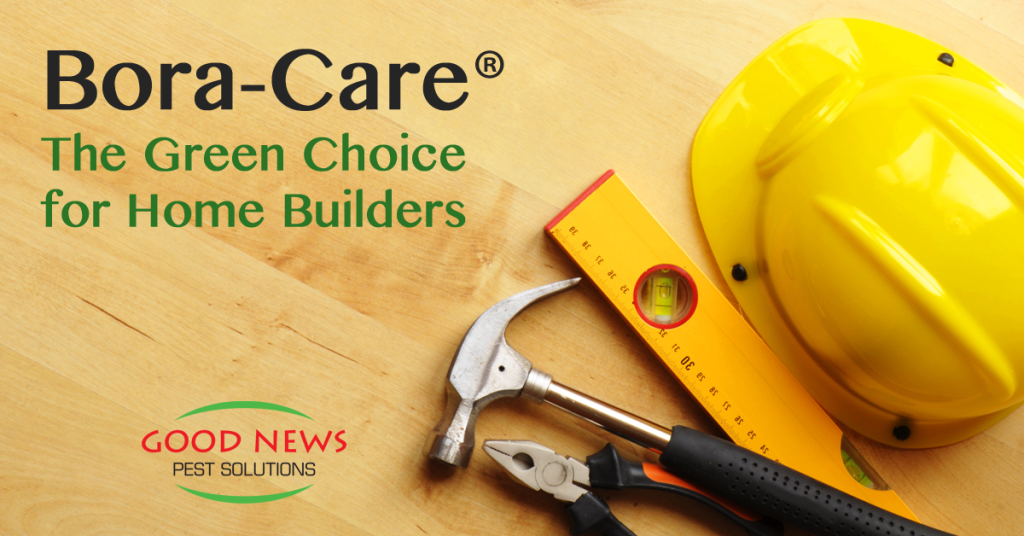 Attention, all home builders! Are you interested in a solution that protects your structures from termites that does not include poisoning the soil underneath them? Then Good News Pest Solutions has the answer for you…Bora-Care!
Bora-Care is a revolutionary, green product that is simply the best at making termite pretreatment simple and effective. This incredible product fits in perfectly with our green mission, and we're confident it will fit perfectly with your green building program. In fact, every year, Bora-Care replaces 45 million gallons or more of toxic soil poisoining in construction projects.
What is Bora-Care® and How does it Work?
Bora-Care is a liquid termiticide that is applied to the first 2 feet of all of the wood in a structure. It works by simply eliminating the wood as a food source by making it inedible due to its active ingredient, borate salt. Additionally, it keeps the termites from making mud tubes on Bora-Care treated structures. If the termites do attempt to build a tube on treated wood, they'll start to die. The other termites takes this as a warning and they abandon the wood…bad for them, but good for the structure!
Unique Features
Bora-Care is different from most other insecticides, termiticides and even other borate products on the market today. Here's why:
It is applied to the structure itself, not the soil.
It's both a repellent and bait: It's unique patented blend of glycols and borate salt provides outstanding results!
Bora-Care saves you an entire day off your building cycle. With Bora-Care, there's no need for anyone to leave the job site, unlike soil pretreatments. Bora-Care is applied during the dried-in phase of your construction project; it is applied directly to the wood, concrete and foundation penetrations in one fast, easy, spray application.
Bora-Care prevents and eliminates not only termites, but carpenter ants, powderpost beetles, old house borers, and Bora-Care will kill and prevent algae and wood decay fungi.
If you are interested in learning more about this pretreatment option for one of your construction projects, contact us today!
Bora-Care's simplicity, efficacy, and organic nature make it second-to-none in the new construction termite treatment market. Builders across the country are switching to Bora-Care instead of pumping toxic chemicals into the ground. Trends in green construction are rising, and Bora-Care is on the leading edge.
Bora-Care® Facts
Here's how green this incredible product really is—a big thanks to nisuscorp.com for these incredible facts!
Bora-Care wood treatments eliminate the need to pump termiticides into the ground. This means there is virtually no risk of contamination to soil, rivers, lakes or aquifers.
Green builders using Bora-Care have eliminated more than 120 million gallons of diluted termiticide from being applied to the soil across the U.S.
Builders can earn points in green building programs by using Bora-Care, including LEED for Homes, NAHBGreen, EarthCraft® and many others.
Bora-Care is sprayed on the wood, which then penetrates the wood and remains in it, providing years of long-term, sustainable residual protection.
Bora-Care saves water. Soil termiticides methods require large amounts of water for dilution purposes, whereas when using Bora-Care, you can save 200-300 gallons of water per average-size home!
The main element found in Bora-Care, boron, is found in nature and may be essential to the health of all living plants and animals.
Mammals, birds, fish and reptiles can all excrete excess ingested boron, so it has little effect on them. Insects are not so lucky however! They do not process boron in the same way. This ingestion results in boron accumulation in their systems and interferes with their digestion process, leading to starvation. This unique feature makes borates the perfect green solution for targeting and eliminating termites.
Bora-Care treated wood provides protection from subterranean, Formosan and drywood termites, as well as wood boring beetles, carpenter ants and wood decay fungi. Bonus: Cockroaches don't like the treated wood either!
Bora-Care emits no VOCs (Volatile Organic Compounds).
Green Builder® magazine selected Bora-Care for its inaugural Overall Grand Prize, Best of Show award at the 2006 National Green Building Conference…wow!
So as you can see, Bora-Care is as green as it gets! Contact us today if you are interested in learning more about Bora-Care and going GREEN with your next termite pretreatment!