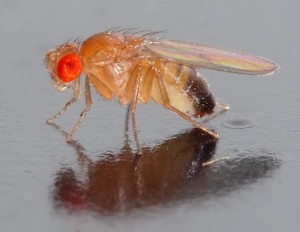 How to Get Rid of Fruit Flies: Removing the Source!
What did the male fruit fly say to the female fruit fly? What's a nice gal like you doing in a rotten banana like this?
We know, we know, it's a really rotten joke—please don't hold it against us! However, speaking of rotten bananas, if you have them laying around your kitchen, you probably have some fruit flies hanging around, too! Fruit flies are attracted to and eat ripened fruit, vegetables and fermenting products.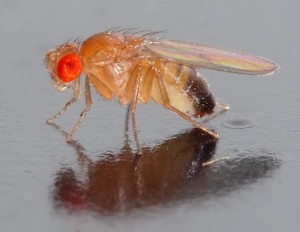 Most fruit flies have bright red eyes![/caption] Fruit flies are interesting little critters. They have very fast life cycles, going from egg to adult in just 8 days! This means that an overly ripe tomato on your counter can give rise to a small army of fruit-eating machines within a week. Fruit flies are also known for their ability to stay alive and stick around. They don't even need fruit to keep multiplying! Fruit flies can actually breed inside the sticky debris of slow-draining plumbing, or on an old, sour mop or sponge. Gross! So, what' s a person to do? We're so glad you asked. Here are a few natural ways to get rid of fruit flies!
Natural Ways to Get Rid of Fruit Flies
First things first: You have to get rid of the source! Implement the following measures and you'll be well on your way to freedom from fruit flies!
Clean your vegetables outside of your home

. Leave the old bags outdoors and place vegetables in a new container or bag before bringing them inside. It's also best to place the vegetables in the refrigerator after cleaning them again in the house sink.

Use or discard all overripe fruit

. Rotting fruit left out in bowls and containers is an irresistible draw...get rid of it!

Cover your fruit bowl or store fruit in the refrigerator

. Make sure fruits are covered if out on the counter or store the fruit in the refrigerator.

Clean opened containers of fruit juice, fermented or vinegar products

. This includes such things as ketchup, cooking wine, and vinegar products. Fruit flies go nuts over these!
Stay tuned next week for Part 2 of How to Get Rid of Fruit Flies! And remember, Good News Pest Solutions provides you with superior pest control methods while being mindful of your health and the environment. We are striving to be the best pest control leader in all things green! Contact us today!
« Back to Blog