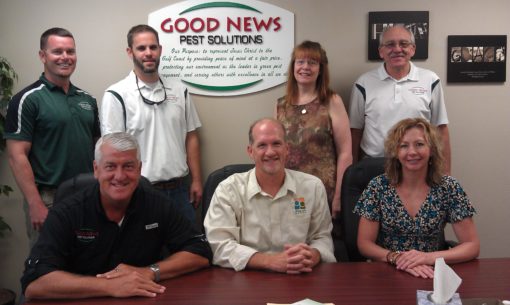 Passionate about Pest Control and Prayer!
The Good News Team is praying for you![/caption] We love what we do here at Good News Pest Solutions. We are passionate about bringing you, our loyal customers, the very best in organic pest control. We have defined what it means to be "Organic" in our industry by only using 100% all natural products. It all began in early 2006 when we began testing the efficacy of new and exciting botanically based products commercially available for the first time. We found that these eco-superior and eco-benign products were not only safe, but more effective than the original formulas. Coupled with other products that utilize naturally occurring elements found in nature, Good News has been able to provide the same pest-free living guarantee, with no risk to your health. This is good news! What's even better news is that through our passion for pest control we are able to fulfill our purpose. You see, we believe our business is a vehicle to bring the "best" good news there is - and that is Jesus Christ and his love and forgiveness! Our mission statement says:
Our Purpose: to represent Jesus Christ to the Gulf Coast by providing peace of mind at a fair price, protecting our environment as the leader in green pest management, and serving others with excellence in all we do.
It's our joy and privilege to represent Jesus Christ to you through our business. In fact, if you ever have a need greater than pest control and are not sure where to turn, feel free to contact us. We would be honored to pray with you and help you. So remember, if you need superior and safe pest control, contact us! If you'd like us to pray for you, send us your prayer request. We gather with our Corporate Chaplain and pray together over the prayer requests every Friday morning. We're here for you!
« Back to Blog