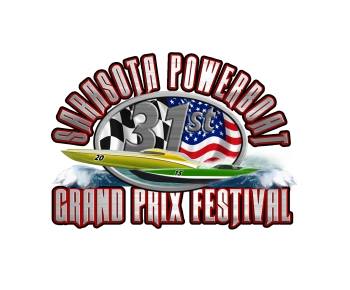 It's TIME for the Sarasota Grand Prix Power Boat Festival!
One of our favorite times of the year is happening RIGHT NOW! It is time for the Sarasota Powerboat Grand Prix! This ultimate summer party is a blast and a great way to celebrate the Fourth of July all week long! We are so excited to have the Good News Pest Solutions Super Boat back in the race this year piloted by the uber-talented Knot Krazy Offshore Racing team, which includes our very own Ryan Krizen and his brother, Rick Krizen. The Good News Boat, a 29′ Warlock with a 500HP EFI, got a make-over this year, too! We included a picture so you can admire it now because once it's in the water, it will be a blur! ;)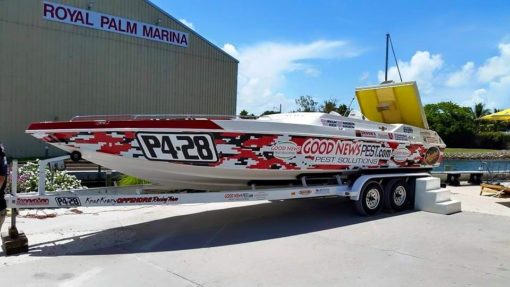 Check out our NEW LOOK![/caption] Even more good news is these races have landed a one-hour prime time special on CBS Sports Network airing on July 15th at 7pm! Why is this a big deal? This is likely to attract a much broader demographic to the Sarasota area and increased participation from racers around the world. A bigger, better race likely means a better outcome for the Suncoast Charities for Children, the ones who run this amazing annual festival! If this isn't a win-win, we don't know what is!
Don't Miss the Parade on FRIDAY
While all the events during this festival are a great time, one of the stand-out activities is The Festival Parade of Boats! It will be happening this Friday evening on Main Street in Downtown Sarasota. The parade begins at U.S. 301 and heads to Gulfstream Avenue. It all gets underway at 6pm! Come on out and wave to the Knot Krazy Racing Team; they'll love to see you! And, of course, don't miss the races (2 days this year!) starting on Saturday, July 4th (qualifying rounds) to Sunday, July 5th, at Lido Beach (between New Pass and Big Pass)! We couldn't be more excited to be a part of this rich tradition of racing, knowing that it supports children and their needs. And of course, rooting on our Good News Boat is pretty awesome, too! Check out the full schedule to find a complete list of what's happening when! You don't want to miss any of these events! See you there!
« Back to Blog