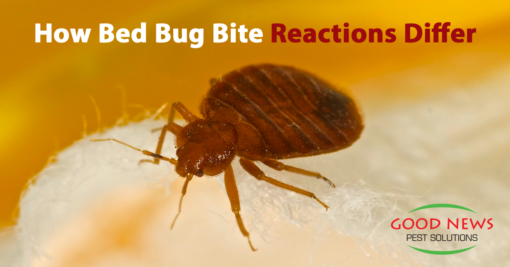 A Closer Look at Bed Bug Bites!
As if the thought of invisible creepy crawlies wasn't enough to make you hate bed bugs (Cimex lectularius), nearly half of us are likely to have an moderate to severe reaction to the bites. Talk about adding insult to injury. The odds are good that you're not going to be afflicted with anything more than a barely visible hole where the bug latches on to you. But for 40-50% of us, we could suffer a more severe reaction. Some significantly more severe. The reactions people have fall into one of two categories.
Systemic Allergic Reactions
Like any other allergy, an allergic reaction to a bed bug bite (try saying that three times fast) differs depending on the person. The most often seen reaction is itching and hives. Some people who are prone to asthma may have an unexplained attack caused by a bug bite. Like every anaphylactic reaction, both of these reactions can vary from moderate to severe. Sometimes washing the affected area with soap and water helps, or using an anti-itch topical application like Benadryl. Some people have had to go to the ER and/or get an epinephrine shot to control the reaction. So what is the body reacting to? The proteins in the bed bugs' saliva. Yeah, eww. Only a medical doctor can diagnosis and properly treat an anaphylactic reaction, regardless of the cause, so if you do experience itching, redness and hives, you should see a physician as soon as possible. If a thorough washing and topical cream do not help immediately, or symptoms become worse, don't wait for an appointment. Head to the emergency room or urgent care facility for treatment right away.
Complex Skin Reactions
Complex skin reactions is a bit of a catchall phrase for other effects of bed bug bites that do not have the same potential to be life-threatening as allergic reactions. As with the allergic reactions, complex skin reactions can vary, based on the person and the length of exposure. We should warn you now, it's about to get even more disgusting. Some people develop isolated macules – red spots – on their skin around the bite areas. With any luck, that's the worst they'll see. Some people get itchy red or white lumps, also called wheals, surrounding the bite site. And some folks develop blister-like rashes that can pop up a few days after being bitten. What's worse, the rash can develop into itchy lesions or hard nodules, and scratching that particular itch can cause the bite area to become infected and linger for weeks. Not good. You're not going to like this one… The more often you're bitten and your skin is exposed to the bed bugs' spit, the better chance you have of developing progressively worse symptoms. And it should be noted that a recent study also found that prolonged regular – or worse – constant exposure to bed bug bites can lead to your body having a systemic reaction. In simpler terms, the more often you're exposed to bed bugs, the more likely your body is to have a reaction, and quicker. This is true even if you don't show the symptoms listed above right away. This reaction can become fatal, so it should be taken seriously. But really, why would you go through this? No matter how you react to bed bugs, you absolutely don't want them in your house. The good news is, we have a solution for that problem! Contact Good News Pest Solutions today to eliminate bed bugs and countless other irritating insects from your home, the natural way.
« Back to Blog