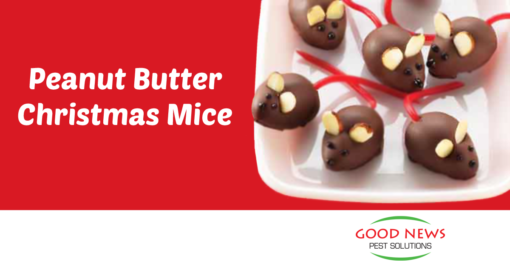 A Christmas Treat: Chocolate Peanut Butter Mice to Eat!
Twas the night before Christmas and all through the house, not a creature was stirring… except for the spoon in the batter for these peanut butter chocolate mouse treats! Here at Good News Pest Solutions, we normally shy away from inviting certain critters into your house, but we're sure these delectable delights will be welcome in any home – and missed when they're gone! To make these fun peanut butter Christmas mice, you'll need just a few things:
Inside:
1/2 cup creamy peanut butter
1/4 cup butter, softened
1 1/2 cups powdered sugar
Outside:
8 ounces chocolate-flavored candy coating (almond bark)
1/4 cup sliced almonds
Red string or peel-apart licorice, cut into 2 1/2-inch pieces
Black decorator gel
DIRECTIONS
Combine peanut butter and butter in a bowl; beat at medium speed until fully mixed and creamy.
Add powdered sugar to the batch and continue beating until dough forms.
Shape dough into 1-inch balls, pinching 1 end to form the nose.
Place onto waxed paper-lined baking sheets or trays and refrigerate at least 2 hours or until firm.
After the dough balls are firm, follow the package instructions to melt the candy coating
Place waxed paper onto flat surface.
Take one candy at a time out of the fridge and fix it on a fork.
Dip the candy into melted candy coating, coating the entire candy, allowing excess to drip off by tapping fork against side of pan.
Place dipped candy onto waxed paper. Immediately insert 2 almonds for ears and 1 piece licorice for tail.
Repeat with remaining refrigerated candies. Let stand about 30 minutes or until coating is set.
Use decorator gel to make eyes and nose. Store refrigerated.
For some fun variations, try vanilla-flavored candy coating to make white mice. Or instead of decorator gel, mini chocolate chips work great for eyes and noses. For an extra special treat, put the leftover melted chocolate into a ziplock bag. Snip off a corner of the bag and drizzle it on pretzel sticks in a triangular fashion to create delicious trees for your peanut butter mice to scamper around in. (of course, vanilla-flavored candy coating makes for snowy trees.) Thanks to our friends at Land-o-Lakes Butter for the recipe! We just know you'll love these meeces to pieces! ?
« Back to Blog