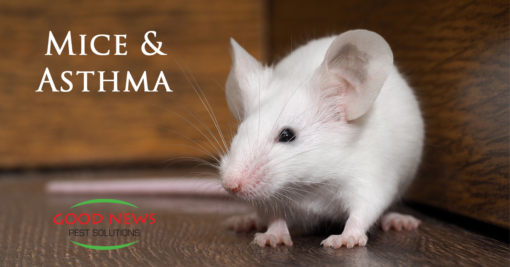 Are Mice Causing Asthma in Schools?
When temperatures start to drop, most warm blooded creatures– ourselves included – tend to seek out places and situations where they'll stay a bit warmer. If you've been in Florida for more than a few months, you'll mysteriously find, regardless of where you came from, that you have a lower threshold for colder weather, even when the mercury is only dropping below 60-degrees. Living in Florida causes physiological changes, that, combined with higher humidity, causes us to feel like 50 degrees around here is like 32 in Ohio, Michigan or Indiana. What you may not know is that we're not alone in this phenomenon. All mammals on the Gulf Coast of Florida: dogs, cats, mice and rats feel the "chill," and subsequently also seek to bundle up if they can or move into places where it's warmer. And thanks to our own adjusted cold tolerance, those places are often our homes, our schools and our churches. An unfortunate side effect of the rodents seeking shelter is the spread of various allergens carried on their fur into the buildings, especially those with centralized heating and cooling systems.
Is There A Connection Between Mice and Asthma?
According to the CDC, more than 6-million kids suffer from asthma, including 17% of black children. In the past, scientists and doctors studied the primary place where kids spend most of their time – their homes (and even their yards, although that's less frequent these days). And while there are many different allergy triggers that can be encountered in life, recent studies seem to show that kids who develop asthma and asthma like symptoms do so after being exposed to these allergens in their secondary home – their schools. While the researchers are quick to point out there is no clear causal relationship between mouse-borne allergens and asthma, they did discover that they are universally present in schools. Further, in the inner city schools they tested, those with higher levels of mice-related allergens suffered symptoms at least one more day a week than kids in the other schools. Other allergens, like dog and cat dander and dust mites were also found, but at much smaller levels and none of them appeared to increase the chance of asthma like the mouse-related allergens. Further studies are being planned, but it seems clear that limiting exposure to mice, however cute, and the allergens they carry is important to help control asthma. Scientists will look into improving the air quality in schools and taking steps to control the pests by removing clutter and sealing up building cracks. Of course, you can also take steps to control the exposure of your family to the allergens these rodents carry by taking steps at home. Good News Pest Solutions has been recognized as the Gulf Coast's leading expert on keeping rats and mice out of your house and in reducing the rodent population outdoors as well. We guarantee your property for a year after treatment and, like all our solutions, employ environmentally safe alternatives to harmful chemicals. Contact us to find out more today!
« Back to Blog