As we approach Valentine's Day, everyone is talking about how love is in the air. Bam! Pop! Squish! And now, it's on your windshield… We've got a special treat for you this month. And don't worry; it doesn't involve devouring those sticky little romantic flies splattered across the front of your car. In fact, while these treats take their name from Plecia nearctica, they don't look anything like our second favorite Florida insect, and taste a whole lot better. Trust us – you don't wanna taste real love bugs! Yuck!? Now, to be honest, this post is more of an arts and craft project than most of the recipes we share, but what better way to connect your kids to the fun?
Here's What You Need
First, you'll need to stop by the grocery store and pick up Dole Pineapple in Sugar Free Strawberry Gel Fruit Cups. Your mouth is already watering, isn't it? Ours is.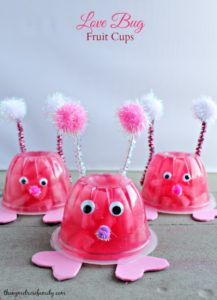 Photo Source: The Melrose Family[/caption] Then stop by your favorite fabric or craft store and grab the following:
3″ Sparkly Pom Poms for ends of Pipe Cleaners
Assorted colors and size of Googly Eyes (yes, that's a word!)
Pink Foam Sheet for heart shaped feet – or you can pick up pre-cut foam hearts
Hot glue sticks & Gun – If you're not a big crafter, you can usually find small sets for just a few dollars.
Putting it Together
First cut the sparkly pipe cleaners in half. Then glue the sparkle pom poms to the ends of the sparkle pipe cleaners, so they look a bit like the flowers and trees in a Dr. Seuss book. Hot glue the googly eyes and tinier nose pom pom onto the front of the fruit cup to create the face. Place a quick drop of hot glue on the base of each heart, then set the fruit cups so the lobes look like two pairs of toes – the feet of our fruity bugs. Finally, glue the antennas to the back of the fruit cup so that they will stick straight up. Now you're ready to bring these Love Bug Fruit Cups to Valentine's parties at school or home or even home schools! Thanks to Jenny Melrose for this idea!
But What About...
Now as for the real love bugs, we've got a few safe, natural ways to keep them away from your house and help you get them off your car easier. You can check these out here. Don't worry, you've got time! While you may have already seen a few, Love Bug season really kicks off in late April & early May and September. Yes, fine! We'll answer the one lingering question we know you're still curious about: It was a dare, okay? If you have any other questions or need us to help handle Love Bugs or any other pest, contact us today! At Good News Pest Solutions, we only use organic, environmentally and family safe products to solve your pest problems. And one more thing, Happy Valentine's Day! ?
« Back to Blog