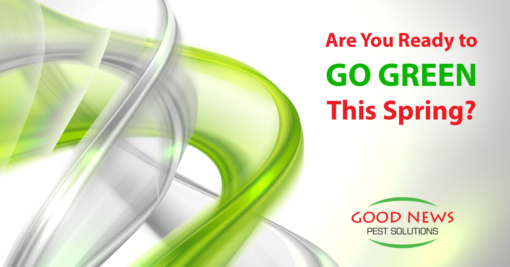 Mild Winter Means More Pests This Spring!
There's a lot of talk about weather and the climate on the news these days. Temperatures going up and down, flash floods, El Niño, winter storms, La Niña… It's hard to wrap your head around sometimes. Plus, you might think that weather conditions don't have much effect on pests here in Florida since our weather stays pretty temperate most of the year. But scientists say that even a 2-degree difference warmer or cooler can have a dramatic impact on the life and reproductive cycles of insects (rodents too!). 2016 was the warmest year since records have been kept, and La Niña is still wreaking havoc as we move from a drier, warmer winter to an unusually warm spring, according to forecasters at the National Oceanic and Atmospheric Administration (NOAA) Climate Prediction Center. So, insects that normally would have been dormant in the winter are already active. And in growing numbers. Partho Dhang, an Urban Entomologist, reports that the overall warmer temperatures mean that pests usually restricted to certain areas far from Port Charlotte and Sarasota can travel increasingly larger distances, resulting in their spread to our coast.
Protect Your Home from Pests
While there's nothing you can do about the weather, there are a few steps you can take to protect your home from invading pests:
Seal cracks and small openings along the bottom of the house and around windows.
Keep tree branches and other foliage trimmed back from the house.
Check for plumbing leaks and cracked grout around bathtubs and toilets. A good caulk seal assures that even the smallest insects can't enter.
Keep mulch at least 15-inches from your home's foundation, and in older Florida homes, maintain at least an inch between wood and soil.
Keep trash cans clean and lids sealed. This helps eliminate food sources that can attract bugs.
Since winter has officially ended and April is on its heels, now is a great time to get started with our year-round Go Green Plus 3 program! Our technicians come out and do the spring cleaning for you, sweeping cobwebs from the eaves and windows and doing a full home health check up of your property. We'll treat your foundation, entry points, eaves, plant beds and trees with our 100% all-natural, green pest solutions that are safe for your whole family, including the 4-legged members. We'll apply the same care to any problem areas inside your home, and we schedule 3 follow-up visits to make sure everything is still protected. Honestly, there are only two types of homes in Florida – those with termites and those who will have them, but we've done our best in the past 30 years to extend the 'without termite' time as long as possible for our clients. Term-Assure 365 combines our incredible Go Green Plus 3 with the most effective and environmentally friendly termite protection, including a $1-million termite damage repair warranty – a necessity since homeowners insurance doesn't cover termite damage! Contact us today to get started with either program or if you're experiencing any other pest problems. We're here to help!
« Back to Blog