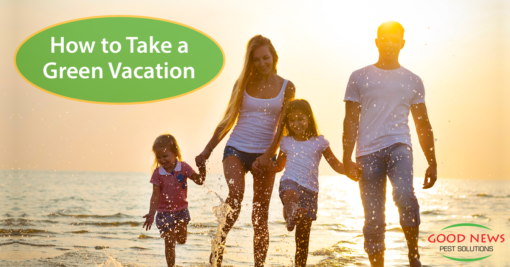 Going on Vacation? Make it a GREEN One!
It seems like the calendar just changed from winter to spring, but before too long, the Summer Solstice will be here. At these times of the year, we often start planning for vacations. Here at Good News Pest Solutions, we're always looking for innovative ways to better steward our planet, for ourselves and our future generations. So, whether you're planning a short trip for when your kids go on spring break, or a full-fledged summer adventure, we've got several ways to go greener when on vacation! Let start with how you're getting there.
Travel Arrangements
If you're flying to your vacation destination, try to fly as direct as possible, non-stop flights cause fewer carbon emissions than several connecting flights. Of course, it's impossible to eliminate carbon emissions when flying, but there are several non-profits that will accept your donation and use the money to offset carbon emissions by planting trees or promoting programs that educate about cutting down on emissions. One of our favorites is Climate Stewards that supports community forestry and clean water projects in Ghana, Kenya and Mexico, not only helping the planet, but also the people in less industrial areas.
Once you've arrived, if you need to rent a car, ask for fuel efficient options – most rental companies provide hybrids if not purely electric cars to rent. The cost might be a little higher, but isn't it worth it to keep the air cleaner?
If you can avoid using a car, even better! Not only is walking and bicycling better for your personal health, but it helps preserve the environment while giving you a first-hand view of the city and a stronger connection to the place you're visiting – not to mention the opportunity to discover a hidden local gem!
While You're There
But where will you stay? With family or friends is great or consider doing an AirBnB! But if those aren't an option, check out the local hotels to see which ones emphasize and utilize green programs. That could be anything from LED lighting, extensive recycling programs, and some hotels even use alternative energies like solar to reduce their impact on the environment. A popular program in many hotels cuts down on water and electric by offering guests the option of only changing out the towels and sheets once or twice per stay.
Consider e-receipts. Many hotels, department stores, and banks now offer the option to have your receipt emailed or texted to your mobile device. It's easier to keep track of (and digitally search) for needed receipts – whether it's for returns or reimbursements, they're all in one place and not dependent on remembering where you stuffed everything.
Carrying reusable bags with you helps cut down on excessive plastic bag pollution as well as the fossil fuels that are used to create the bags. Reusable bags are great for your souvenir shopping as well as food purchases. And in some states like California, stores charge additional fees if you don't bring reusable bags.
Speaking of food purchases - eating at local restaurants not only puts money back into the community you're visiting, but those great hole in the wall places often use locally grown and sourced vegetables, meat and dairy, cutting down on transportation costs and the branded napkins, etc., that you see at a chain restaurant. Not to mention, you're on vacation - it's a time for new experiences not the McDonald's or Chili's you could stop by anytime on the way home from work.
Avoid plastic water bottles. Yeah, we know they're convenient, but they've become one of the highest sources of pollution and oil use, almost outpacing cars! Even if you don't believe the stories of companies using tap water to fill their bottles (they're mostly true), consider the cost – your 8 glasses of water a day costs less than a dollar a year, even if you're using a filtered pitcher. The average cost for the same amount of bottled water = $1,400/year. Bringing a reusable water bottle from home (or getting one from your hotel) and refilling it yourself with purified water can save your pocketbook and the environment.
We love being green and there's no reason that has to stop when you leave the house. Even if you only implement a couple of these tips, you'll be doing your part to make the world a better place and save yourself a few bucks in the process! Are there any we missed? Share your tips for a greener vacation in the comments!
« Back to Blog