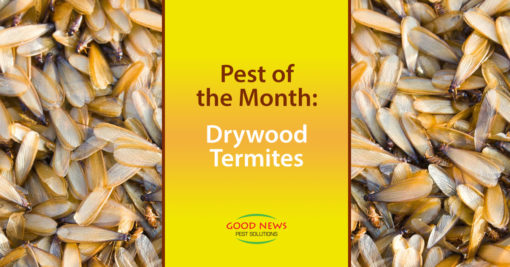 July 2017 Pest of the Month: Drywood Termites
As we've been known to say many times in the past, there are two kinds of homes in Florida – those with termites and those that will have them. We talked about subterranean termites a little while back, so today we'll focus on their distant cousins, drywood termites. Drywood termites are generally found in the eastern and southern states, but they have been known to spread to other regions after infesting a piece of furniture, especially antiques. I guess they just like the old world taste. There are a few varieties of drywood termites, but the one most prevalent throughout Florida is the tropical rough-headed drywood termite - Cryptotermes brevis.
How Can I Tell the Difference?
Drywood termites are generally larger than subterranean termites, but nest in much smaller colonies. Since all worker termites, swarming or otherwise, look pretty much the same, we rely on the different soldiers and winged termites for visual identification, even though they are a much smaller part of the colony. Drywood termite soldiers have a head with a large cavity in front – that looks almost like a bowl from behind - a very lumpy, misshapen bowl. Unlike subterranean termites, drywood termites don't require contact with the soil, or a water source beyond what they draw from the wood they devour, hence their name. In fact, drywood termites rarely even leave the material once they start snacking. And as bad a subterranean termites are, drywood termites can be more insidious, because they're less noticeable and can infest multiple places at one time, making it even more important that you call a professional when you discover an infestation of any size.
How Can I Tell if I Have a Problem?
If you see termites, especially flying termites or discarded wings lying around, that's a bad sign. By the way, flying ants have two pairs of differently-sized wings, while termite wings are pairs of the same size.
If you discover a part of your house or furniture that sounds hollow when tapped on, that's a bad sign. If your vacuum cleaner manages to punch a hole in your baseboards, you definitely have an issue.
Then there's frass. Frass is the term for the, um, termite leftovers. As we mentioned earlier, when drywood termites eat wood and cellulose, they draw every ounce of water and nutrition out of the food. What can't be digested is expelled from their bodies. Drywood termites are the neat freaks of the termite world, so unlike the subterranean termites who leave their droppings in the tunnels they dig, Cryptotermes brevis pushes the remains out of their tunnels. If you see a fine dark or light dust on windowsills and doorjambs, that's frass – and you've got a problem.
How Can I Get Your Help?
Because all termites are different and respond to different treatments, you really need to call in an expert. We have experience with all the Florida termites (there's 3 more we haven't mentioned yet), and we've been helping our customers from Port Charlotte to Bradenton with termite inspections and 100% organic, safe treatments since 1989. Give us a call to find out more!
« Back to Blog