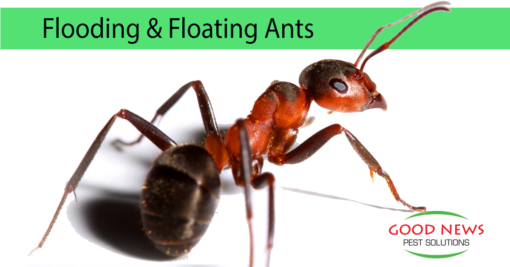 Flooding & Floating Ants: What to Know & Do
When there's excessive rainfall and the floodwaters start to rise – like when a Hurricane like Harvey or Irma hits or approaches the Gulf Coast – everyone fights to rise above the waves and survive it. And none are more adaptive and resilient than the Red Imported Fire Ants (RIFA). While most fire ants avoid humans unless they feel threatened, RIFA are the ones that attack anything that moves, including the 60% of Gulf Coast residents that get bitten every year, and their pets. As the name implies, RIFA are imported from Brazil. No one's sure just how, but they first showed up in Mobile, AL in the 1940's and rapidly spread to 13 other states and have been found as far North as Oklahoma. They overtake and displace other species with startling regularity. Which leads us to their latest adaptation. As early as post-Katrina (and probably earlier, but we didn't have as much Twitter and Instagram), people posted images of huge floating rafts, made up solely of Red Imported Fire Ants. Scientists say as soon as the ant hill starts to become immersed in water, the colony will spread out into a wide pancake shape that allows the ants to float and survive without the ants drowning, surviving until the waters recede enough for them to build a new ant hill (or at least 12 days under laboratory conditions). The first series of ants link together in a matter of seconds by mandibles, tarsal claws, and adhesive pads on their feet to form a mass that decreases their mean density as a whole, becoming a buoyant raft, made up of 100,000 to 250,000 individual ants. All ants are what's known as hydrophobic. That means their bodies partially repel water, making it bead up. A group of them together can trap a whole layer of water and oxygen around their collective bodies, increasing their buoyancy. As you can see on the short video below, posted by the Green Apple Network, the ants are moving around, active the whole time as they float down the floodwaters from Hurricane Harvey. This probably indicates that the ants move about in shifts, swapping positions so that all of them survive.
The lighter colored dots are larvae and pupae – literally the whole colony is saved. Entomologists caution that as interesting as the ant rafts may seem, do NOT reach out and touch them by hand or even with a stick. The colony will survive even initial submersion. It will not end well for you. However, there is a good defense against these floating mandibles of death – and it's something easy to find – it might even be in your own kitchen. You see, the ants survive because they cling to each other and spread out the benefits of their hydrophobic abilities. But their Achilles heel is, believe it or not, dish soap. Just like those old Dawn commercials, when a little soapy water hits the floating ant colony, it instantly breaks the ants' grip on each other, and the makeshift raft collapses. Just make sure there isn't any dry land they can get to easily enough, or you might get a parting shot. There is one positive thing that is coming from the experience: scientists are hoping that they can utilize what they've learned from the ant rafts to develop better waterproofing and flotation devices. Since Hurricane Irma came through, the rain will certainly rile the fire ants up, and the other place they tend to run when water starts rising is right for your house. Protect yourself now and in the future with our Go Green Plus 3 all organic pest control that's 100% safe for the whole family and protects your home and yard from fire ants, as well as roaches, silverfish and other crawling insects. We protect homes all up and down the Gulf Coast of Florida, from Sarasota to North Port and we'd love to help you out too! Just give us a call to learn more.
« Back to Blog