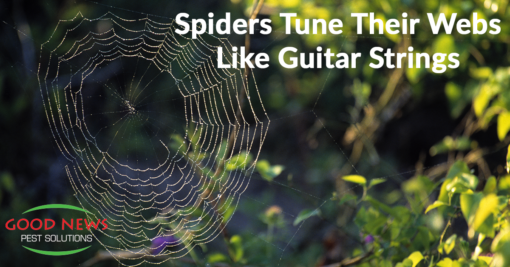 Spider Webs Are Alive... With the Sound of Music?
We've spoken in the past about how strong and sturdy spider silk is, so much so that researchers are using it as a model for developing cables and body armor. But recently, scientists discovered another aspect of spider silk that they had never considered – and it could lead to a better understanding of how exactly spider silk works. Apparently, as illustrated in the video below, spiders don't just spin elaborate patterns with their webs – they also tune them.
That's right, just like the strings on a guitar or violin, spiders tune each strand of their web to a specific frequency, even shortening or tightening the strands as they weave them. The discovery even inspired one violin player to restring her instrument with spider silk to try it out. For a stringed instrument, the thickness, length and tension determine the pitch, with tension being the most malleable factor. And while spiders aren't tuning their webs to E-A-D-G-B-E, thanks to sensors in their legs, they instinctually choose and remember the 'notes' they choose and where on the web they lie. That way, when a fly or other food source is caught in the web, it resonates at that frequency, 'chiming' as it were to let the spider know where the prey is caught – or where one of us has accidentally walked through it – eww. Researchers also noted that sometimes the spider will even 'play' their web to test vibrations and interpret the results. In a strange way, it's similar to how bats use echolocation, but with spider silk and leg vibrations rather than invisible sonar. They also speculate that potential mates might give off different vibrations or possibly even play the web back to the resident spider to attract their attention. The Beach Boys would be proud. If you're picking up some less than 'good vibrations' on spider webs in your home or yard, we can help! Our Go Green Plus 3 can eliminate most crawling insects and keep them out of your house. It's affordable, easy and can even be combined with our termite control for a complete Florida homeowner package, whether you're in Bradenton Beach or Port Charlotte. Just give us a call!
« Back to Blog