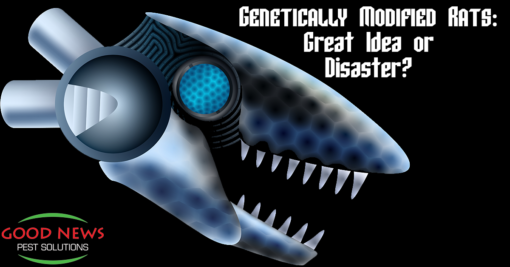 Genetically-Modified Rats: Great Idea or Ecosystem Disaster?
Not too long ago, any type of genetic manipulation was the stuff of science fiction books and movies like Jurassic Park and Gattaca. And while we're still decades away from the human genome being selected or edited, the same is not true for the lab rats of the world. That is to say, literally, the rats that are in the lab. The experimental technology, known as Gene Driving, was first developed to try and eliminate malaria carrying mosquitoes. If you remember your high school biology lessons, you're familiar with the fact that there are two sets of genetic markers that make up each strand of DNA – one from the father and one from the mother. To simplify, when an egg is fertilized, the two strands of 23 alleles combine to form 23 pairs of chromosomes to form the DNA of every cell in a human being. And the system works similarly for other mammals, just in different quantities. Gene Driving interrupts the natural genetic process by overriding the natural biological processes with engineered genes that cause the rats to have, instead of shared genetics between their father and mother rats – they only have the mother's genes. If all rats were female, they couldn't reproduce. And if this sounds familiar, it's a variation on the method Michael Crichton proposed in his dinosaur novels. After 4 movies and a 5th on the way, I think we all know how that ended. (Hey, weren't mosquitoes part of that too?)
Life Finds a Way?
And while no one is worried that rats are going to escape from their island and eat the humans, there are some in the scientific community that are concerned about other consequences when "Life finds a way." To put it more specifically, they're concerned that such genetically engineered organisms could have an irreversible impact on the ecosystem. It's not just about genetically engineering sterility or reducing aggression. It's more that they're concerned that we are fiddling with nature without fully comprehending what the consequences could be. And while some are calling for a complete halt to all of the research related to gene driving, the researchers who developed the process point out that completely abandoning the research means that we may never understand it, and it could be a very effective way to cut down on several disease-carrying and crop-devouring insects and rodents. Unlike the typical science fiction B movie plot, however, the original researchers are adamant that they need to better understand the animals and the ultimate result of their existence in nature before releasing them from the lab. The next step in the process, they say, would be to develop an engineered gene drive that is self-limiting. Instead of taking out a whole species, it could temporarily slow generational growth – for example, stop rabbits from breeding, allowing the population to be more easily controlled. The hope that these scientists in Scotland cling to is that we can find a better way to try and control the spread of harmful parasitic viruses and diseases that cause things like malaria and dengue and zika virus. It is becoming harder to develop vaccines and the diseases themselves mutate to be resistant to treatments, while at the same time their transmission partners (the mosquitoes) become more resilient to traditional pesticides. Like it or not, and despite the moral implications, we might find ourselves having to develop mutations to fight nature's mutations in order to survive. Luckily, we have a solution – for the mosquito problem at least – that doesn't require potentially harmful pesticides. Our exclusive No Bite Zones have turned biting, blood-seeking female mosquitoes into vegans, from Punta Gorda to Lakewood Ranch, and lets them pass it on to their offspring. Suddenly your rainy season isn't as buggy and the mosquitoes get to fulfill their God-given purpose of pollinating. Give us a call today to find out more!
« Back to Blog