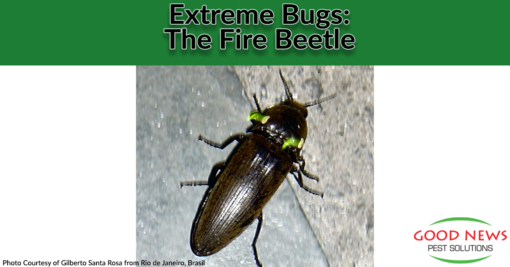 Extreme Bugs: The Brightest – Fire Beetle!
In the award-winning film by Guillermo Del Toro, The Shape of Water, the filmmaker's latest creature creation in moments of extreme emotion lights up with a strange, otherworldly glow. The makeup and effects people working on the film managed this with a special UV paint and say they were inspired by several undersea and insect creatures in real life that exhibit bioluminescence! The glowing insect most of us are familiar with is the summer firefly, although there is some debate as to whether or not they appear in some parts of Florida. However, as bright as those little guys you collected in a jar are, the Extreme Bug we're highlighting today is the brightest of all – the Fire Beetle!
Meet the Fire Beetle
Fire Beetles, or Cucujos as they are called in Mexico & South America, are a species of beetles known as click beetles. They got the name from their ability to flex and snap their body segments, with, you guessed it, a "Click!" sound. They use this ability to launch themselves into the air, or get their bodies turned right side up, especially when faced with a predator. Pyrophorus noctilucus are similar to fireflies (who're also a beetle) in their ability to glow brightly from two light organs at the bottom of their first torso segment. Instead of flashing their light on and off like fireflies, the Fire Beetles glow constantly, although they can get brighter to startle an incoming predator. They have the bioluminescence in every stage of development, including laying glowing eggs! While flying around, the two glowing spots on its back and one on its abdomen shines bright - up to 45 millilamberts. How bright is a millilambert? The glow from the Fire Beetle is as bright as a single LED flashlight. But unlike the flashlight, the Pyrophorus noctilucus generates 100% of their energy in light. A standard flashlight only gives out 10% of light, the rest of the illumination coming from the heat the flashlight generates. When they're not glowing, Fire Beetles are mostly brown and measure an inch to an inch-and-a-half long. And we do see them from time to time in Florida, along with our Caribbean neighbors. They eat mostly pollen, aphids and scale insects that munch on your garden, so they're helpful to have around. Of course, if you're discovering other creepy-crawlies around your home and yard, give us a call. Our highly trained staff are experts at taking care of just about every pest you'll encounter, from rodents to insects. And we do it all with 100% organic, all natural solutions. For year round protection, our most popular solution from Bradenton Beach to Port Charlotte is our exclusive Go Green Plus 3. A full house treatment and 3 annual visits to bolster your protection. We'd love to have you join our family of satisfied customers!
« Back to Blog