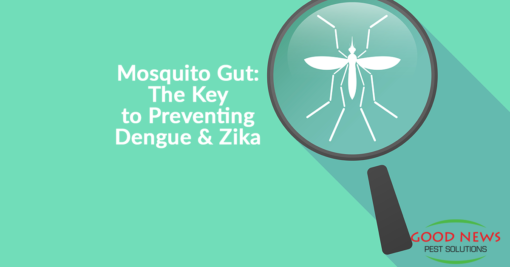 Mosquito's Gut: Key to Preventing Dengue and Zika!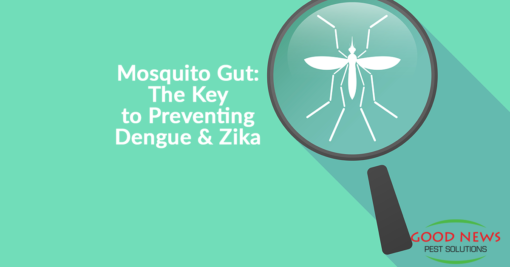 Since the first sign that the Zika virus had reappeared in areas largely populated by humans in 2013, there have been countless ideas and theories and attempts to limit the spread of the virus, largely through its mosquito carriers. Scientists and laymen alike have proposed heavier spraying of insecticides, sterilization efforts, even our own No Bite Zones technology that turns mosquitoes into vegans. The Aedes aegypti and Aedes albopictus mosquitoes are also carriers responsible for the spread of the Dengue virus. The infection route runs as follows: an infected mammal is bitten by a mosquito. The infected blood enters the mosquito's system, but they are unaffected. Then the mosquito bites another mammal that becomes newly infected with the virus. A recent study from Purdue University took a more in-depth look at this process, identifying what happens to the mosquito and the virus between bites. What they discovered may provide a radical new approach to preventing and even eliminating the spread of the viruses.
A Deep Dive
Zika virus, Dengue fever, encephalitis and some forms of influenza are all examples of what is known as an arbovirus. That is, the virus is a parasite that travels and is transmitted via an insect, spider or crustacean, but most often in mosquitoes and ticks. Arboviruses don't rely on what we might think of as normal infection methods, but by existing within the insect that spreads the virus, sometimes working in symbiosis, but just as often in conflict with the parasite carrier. This can sound all very confusing, but the key is that the virus is a separate life form riding with the mosquito or tick in hopes of infecting a new host. When the researchers at Purdue started digging into what happens when a mosquito first picks up one of those viruses, they learned something interesting. The biochemical makeup of the mosquito's guts are changed by the presence of the virus - their metabolism increases and certain chemicals are released. In a way, it's very much like what our bodies do when they fight an infection. The difference is, the changes the virus causes in the mosquitoes allows the virus to replicate and grow – leading to further infections. They are still unsure how the mosquito is ultimately affected, but it may very well impact their ability to fulfill their God-given purpose as the number two most effective pollinator after bees.
A Solution Is Still Pending
While scientists try to investigate further and determine how the virus impacts the mosquito, a solution has already been born in their minds. If researchers can find a way to inhibit the virus from switching on the change in the mosquitoes' bodies, the virus would become stagnant. Instead of replicating and using the mosquitoes' bodies as a way to get themselves into more mammals – like us – the virus would just sit inside the mosquito. The mosquito could then continue going about its normal day and when it dies, the virus dies with it. They are working now to discover the easiest and most effective way to enact that change in mosquitoes, allowing everyone to live a little easier. Until then, of course, take the usual precautions if you're going to be out where you expect to encounter mosquitoes – wear long sleeves, use insect repellant – including these all natural solutions to DEET – and try to stay indoors. And in your own home and yard, we highly recommend our aforementioned exclusive No Bite Zones technology. Our customers from Punta Gorda to Bradenton Beach have benefited from turning biting momma mosquitoes and their offspring into nice vegan insects who dine on plants, not them or their pets, and enjoyed a much happier rainy season. If you'd like to take back your yard, give us a call today!
« Back to Blog