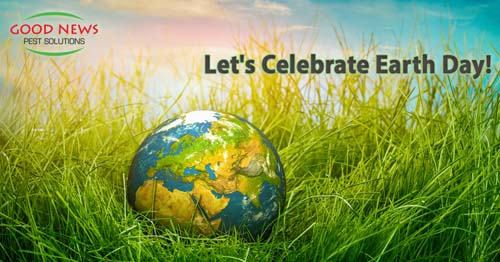 Let's Celebrate Earth Day!
On Sunday, April 22, we will celebrate the 48th annual Earth Day. The first organized celebration of our planet was the idea of two Congressmen – a Democrat from Wisconsin and a Republican from California – and was intended to be a nation-wide educational rally scheduled midway between Spring Break and final exams. In the first year, 20-million Americans took part and it led to the formation of the Environmental Protection Agency, as well as the Clean Air Act, the Clean Water Act, and the Endangered Species Act. As you might imagine, we're big fans of Earth Day and pretty much all conservation efforts here at Good News Pest Solutions. It's part of our ongoing commitment to going green and our belief that it's our duty to take care of our planet and all of God's creation.
Setting the Goal
The theme for this year's Earth Day is ending plastic pollution – eliminating everything from the plastic soda and beer rings that still end up in our oceans to the grocery bags and water bottles that litter our landfills to microplastics – microscopic bits of plastic that infiltrate food, water, and our own bodies. Probably not the future they imagined in The Graduate. But even more than pollution, the unexpected side effects of the popularity of plastics over the past 100+ years leads to numerous health issues. Plastic exposure contributes to reproductive issues, cardiovascular problems, impaired neurological functions, adult-onset diabetes, obesity, and even a resistance to chemotherapy. Some of the same steps we've recommended in the past for going green work well for specifically reducing plastic pollution – reduce, reuse, and recycle. Additionally, the folks behind Earth Day recommend refusing and removing. Refusing is simply turning down the option for plastic bags, straws in your drinks, or just requesting an alternative to plastic items. If you want to see the impact you can have, there's an online calculator where you can see your current plastic footprint.
What Can One Person Do?
If you're looking to eliminate plastic pollution in your life for Earth Day or every day, the folks at the Earth Day Network prepared a whole Guide, with plenty of resources, video links and actions you can take to make our planet a better, healthier place. You can also make your corner of the planet healthier by joining our customers from Bradenton Beach to North Port in getting our 100% all natural, organic and safe pest control solutions. Our Go Green Plus 3 protects your home and perimeter from nasty bugs without all the dangerous chemicals you'll encounter elsewhere. If you'd like to learn more, just give us a call!
« Back to Blog