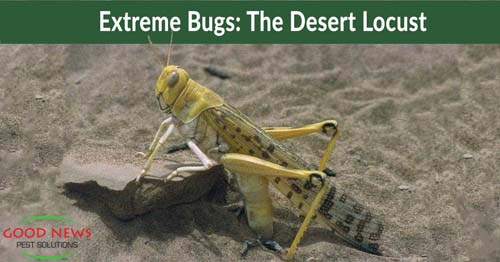 Extreme Bugs: The Fastest-The Desert Locust
Have you ever seen an insect pulled over in a school zone for speeding? While that may not seem likely, for our latest Extreme Bug, the Desert Locust, the fact that it can fly more than 21 miles per hour into the wind is just one of the amazing aspects of this close cousin of the grasshopper. In addition to its incredible speed – the fastest flying insect ever recorded – the Desert Locust is also one of the oldest recorded bugs – it appears in both the Bible and Qur'an, and while you may not realize it, you've probably even seen a representation of them in a movie. In the Mummy movies, the one bug people remember is the scarab. But when they show a desert swarm – or when God calls down His wrath on Pharaoh and the Egyptians in the Ten Commandments (as well as the Bible story in Exodus it's based on) – those are Desert Locusts. It may seem surprising that the Desert Locust starts out as a mostly solitary insect. Sure, the pregnant mother locust lays up to 100 eggs at one, um, sitting, but most nymphs or hoppers spread out once they crack through the foam the mother encases the eggs in while they're growing. In fact, the mostly greenish hoppers and even the winged adults are happy to just wander around and eat the equivalent of their body weight each day. But get a pack of these adult winged locusts together, especially if their food supply starts to dwindle as a result of a drought, and an interesting thing happens.
Desert Locusts: The Incredible Hulks of the Insect World?
The scientific term is polyphenism, which just means they can alter their physical form based on environmental conditions. With Desert Locusts, when more of them get crowded together, their hind legs start banging into each other and they undergo a change. Think of Bruce Banner becoming the Hulk. The Desert Locusts' bodies become shorter. Their color changes to yellow and black. And they start pumping pheromones that cause them to become attracted to each other, shifting from solitary insects to a raging, gregarious swarm of hungry grasshoppers that can devastate any nearby crops. Wow! Swarms descend on unsuspecting farmlands, wiping them out in mere minutes. Then the swarm moves on, travelling 1-200 kilometers per day. They routinely glide across the Red Sea and even crossed the Atlantic Ocean from Africa to the Caribbean in the late 80's in search of food. A single swarm can cover up to 1200 square kilometers and can number 50 to 100 billion locusts per swarm. Luckily, our wetter and generally colder weather in the United States and across Europe means that the Desert Locust will likely never pose a threat to us like they do to the Middle East. While the everyday grasshoppers we encounter in Florida won't completely decimate your garden and yard like their Desert Locust brethren, they do have a tendency to exhaust their food supply before moving on. That includes your garden and your citrus tree leaves. Our Go Green Plus 3 may not eliminate these ravenous creatures, but give us a call today and we'll explain how we help our clients from Parrish to North Port with our 100% organic pest control solutions!
« Back to Blog