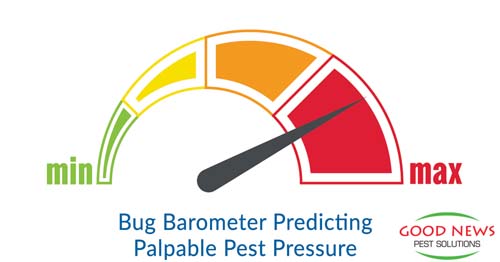 La Niña to Create Significant Spring Pest Pressure
The National Pest Management Association has released their annual bug barometer for the remainder of 2018 – and into 2019 for us on the Gulf Coast of Florida. There are a lot of factors to try and take into account when considering what the rest of the year will hold. Much like a weather forecast, not only do scientists have to take into account the conditions in their region, but also what has been happening across the United States. This year, La Niña brought our area unusual amounts of rain – and more snow than our neighbors were expecting as well. At the same time, it caused a milder winter for the north and southwestern areas of the country. So, even though our winter months were unseasonably cold, the wetter weather here, as well as in Texas, Louisiana and New Mexico means that we'll see just as many, if not more, mosquitoes as the summer months approach.
More Moisture Means More Mosquitoes
Because of the wetter ground, the mosquito life cycle will appear shortened as the first rains of summer allow eggs laid late in the year to hatch instead of having the extra time between rains. We can also expect more termites and cockroaches as they were driven by the cold and lack of food up north down into our area and have already started to multiply. Thankfully, we can expect to see fewer ants – at least at first. The warmer winter in the Southwest kept them alive, but also means they have begun to spread sooner, and colonies may begin heading our way.
So What Does That All Mean?
All of these signs point to clear indicators that we'll soon see the bug pressure rise. If you'd like to keep your blood pressure from rising with it, why not get a head start on the typically bug-filled summer months by beginning our Go Green Plus 3 year-round treatment for your home and exterior? We start with a thorough outside inspection of your property – checking for and treating your foundation, soffits, entry points, landscape beds, tree bases, fire-ant mounds, and wasp nests with our 100% safe, all natural pest protection service. Then, we'll come back at least once every 4 months to renew the treatment and make sure your home is safe from the creepy crawlies, as well as the harsh chemicals some other pest control companies use. Many of our customers in Bradenton, Sarasota and Port Charlotte also opt for TermAssure 365. It combines our trademark Go Green Plus 3 with our world class termite protection – the best coverage you can get for your home. If you'd like more details on either one or hear more about our commitment to organic pest solutions, just give us a call!
« Back to Blog