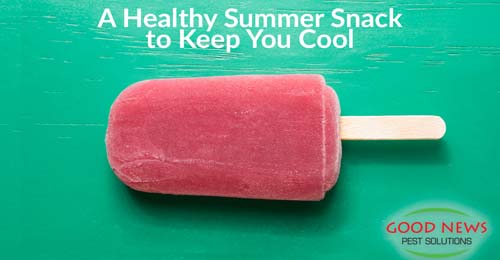 A Healthy Summer Snack to Keep You Cool
Whether you mark the time by the end of the school year or what it says on the calendar, summer has officially begun on the Gulf Coast of Florida! It feels like kids these days are more inclined to play video games or interact with social media than going outside like we remember. But whether their adventures are real or virtual, they'll still need a healthy snack to keep them refreshed in between. Things have come a ways since the Tupperware molds that mom used to fill and throw in the freezer, but popsicles can be a handy – and healthy – treat. And not just for the kids, either! You could go sweet or sour, but we found this recipe that combines both and tastes great! They only take 30 minutes to get ready, then pop them in the freezer for 6-8 hours before handing them out. The recipe only makes 6, so you might want to double down, or increase as needed, because these'll go fast!
Cherry Lime Popsicles
Ingredients:
2 cups cherries
1/3 cup lime juice
1 cup water
1/4 cup honey
Small or medium sauce pan
Food Processor
Popsicle molds or small cups
Wooden sticks
Directions:
First, you'll need to pit the cherries and juice the lime. You can use the store-bought lime juice, but it might not be as tart. Now, combine the cup of water and the honey in a small sauce pan. Warm it up over medium heat on the stove, constantly stirring, until the honey has almost entirely disintegrated. You might get a little bit of foam, but just stir it in. Put the lime juice, the cherry bits and the water and honey mixture into your food processor. Use whatever speed you'd like, but you'll want to get the mixture very smooth, especially the cherry pieces. Carefully pour everything into a popsicle mold and add wooden sticks. If you don't have molds, you can easily substitute a small cup. Just try to lean the popsicle stick so you can tug everything out easier after they're frozen. Freeze for at least 6 hours or overnight. Depending on your molds, you may be able to just pop them out, or you may need to run a little hot water on the outside of the mold or cup. Then just keep them in the freezer, ready to be enjoyed. It's a great, affordable way to cool down during these summer months. Just don't eat too quick or you may get a brain freeze!
Speaking of Cool...
Another way to stay cooler while saving a few dollars is to invest in Thermal Acoustical Pest Control, or TAP. Not only does TAP keep bugs and rodents out of your attic and wall, it's safe for the whole family, and more energy efficient than the popular pink fiberglass stuff. TAP is made from fire-retardant recycled newspapers, treated with an all natural pest repellent that is blown into your attic and walls. TAP is denser than fiberglass insulation, so the hot air from outside (or cooler air in the winter) doesn't transfer into your home through the attic. That means almost instant savings as your AC doesn't have to run constantly to maintain a reasonable temperature. Our customers from Ruskin to North Port love the TAP insulation and the extra protection it provides, without worrying about whether their kids might accidentally breathe in loose shards of fiberglass. If you'd like to find out more, just give us a call!
« Back to Blog