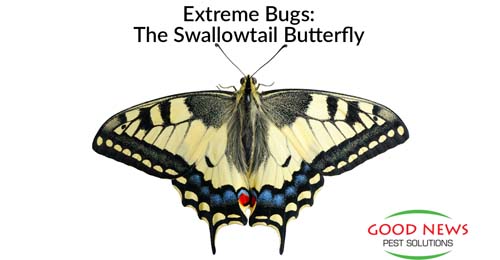 Extreme Bugs: Mimicry at its Best...Swallowtail Butterflies!
Whether you're a full-time lepidopterist or just an amateur butterfly enthusiast, there's always a thrill when you spot a new or unusual butterfly. But are you really sure it's not one you've seen before? Most insects are easily identifiable by what makes them distinct. But our latest Extreme Bug is known best for not looking like itself.
Hiding Out
We've talked about insects that utilize camouflage before – some of them are even being studied to improve our military tactics. But the Swallowtail Butterfly takes that to a whole new level. Not only can Papilio dardanus alter the way it appears to predators, it has THIRTY different ways to mimic other butterflies. Even its smell and taste – which we'll admit seems like a little late to be pulling a bait and switch, so to speak. Additionally, the Swallowtail Butterfly, also sometimes called a 'flying handkerchief' or 'mocker swallowtail,' can change its coloration, and its wing size and shape.
Looking for Love in All the Wrong Faces
In fact, there are 14 different female configurations of the Swallowtail Butterfly – even some that mimic males. Which can sometimes be confusing even to members of their own species when it comes to mating. It appears, though, that the most obvious distinction is repeated patterns of black. The largest group of morphing Swallowtails is the hippocoon group - characterized by four bands of alternating black and color patterns. Meanwhile, splotches of color in seemingly random designs alternate with the black coloration of the cenea group. Finally, the planemoides group has black bands surrounding the outside of the wing with a large splotch of color through the middle of the wing. In this case, the black patterns stay consistent while the colors may change with wing morphing.
Touching Me, Touching You
Geneticists are studying the Swallowtail Butterfly, trying to identify the exact genome that allows them to alter their look. That has led to discoveries of how each gene affects not only the life form it guides the growth of, but also the other bits of DNA surrounding it—hinting at clues to mutation and genetic interaction on a microlevel! And who knows just how much this information could benefit all life in the future. As long as they're not genetically engineering a super dinosaur-sized butterfly!
Change for Good
Speaking of chemical and genetic alterations, one positive outcome of similar research is our exclusive No Bite Zones. While butterflies and mosquitoes are both pollinators, one's generally more welcome than another. But with our Mosquito Protection Program, the momma mosquitoes that would normally be biting you and your pets become vegans – and pass that trait onto their offspring! We're in the middle of summer, and we've already kept families from Sarasota to Bradenton bite-free. And you can be too – just give us a call!
« Back to Blog