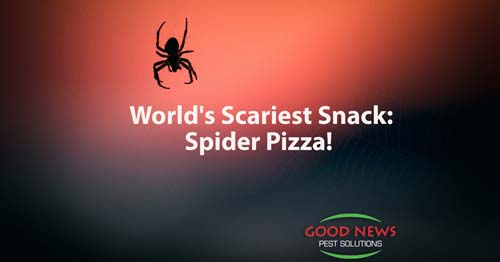 World's Scariest Snack: Spider Pizza!
While the chosen treat on the majority of folks mind this time of year is candy, it's long been a time-honored tradition to come up with clever new creative snacks for the Halloween 'season.' This year, whether you go out trick-or-treating, prefer a harvest festival at church, or a school get-together, we've got a spooky snack that everyone will love: Spider Pizzas*! Before you head to the grocery store, add the following to your shopping list:
Ingredients You'll Need To Make Halloween Spider Pizzas
Fixings to make 2 cheese pizzas

Pizza dough (mix, roll-out, or the gluten free crust you prefer)
Tomato sauce
Shredded mozzarella cheese
Or just grab a ready-made cheese and tomato pizza from the store.

A can or jar of pitted black olives
A couple each green and orange bell peppers
Extra shredded cheese – more mozzarella, or mix it up with Mexican or Italian blends
You'll also need a couple of baking sheets or trays – one round, one rectangular...plus a round cookie cutter! Why 2 cheese pizzas? Cause we've got 2 fun variations:
Large Halloween Spider Pizza For Sharing
This one's the easy recipe. First you put together your unbaked cheese pizza (or peel the plastic off). Then you take 4-5 olives and cut them in half. Place these strategically apart across the pizza. They will be the spider bodies. Then take another 4-5 and slice them lengthwise into thin segments. Then place four slices on either side of the spider bodies to create a large pizza crawling with spiders.
Individual Mini Halloween Spider Pizzas
Now these are a little more work, but so cool-looking! Prepare your pizza as before, but now use the round cookie cutter to cut as many round spider bodies as you can manage from the pizza. Place the rounds on the rectangular baking sheet. Chop up the green and orange bell peppers to make legs – go lengthwise for the crookedest looking legs. One end goes into the soft pizza crust, the other extends from it – 4 on each side again. Add some of the extra shredded cheese – at least a spoonful – to 'glue' the legs on better once it's all baked. Take as many olives as you need and slice them width-wise in 4 pieces. Discard or munch on the closed ends and use the open olives to make eyes for the baby spiders. Now bake as usual, according to the instructions for the pizza. Usually they're ready in 8-12 minutes. For a fun display, serve the big pizza in the center, surrounded by her pizza spider babies! Viola! Halloween treats that are not too tricky! Of course, if you're running into real spiders around your home, they're no treat at all. You might want to try our Go Green Plus 3 ultimate protection from spiders, roaches and ants, just to name a few. It's one of our most popular services at homes from Parrish to North Fort Myers. For more details, just give us a call! *contains no actual spiders!
« Back to Blog