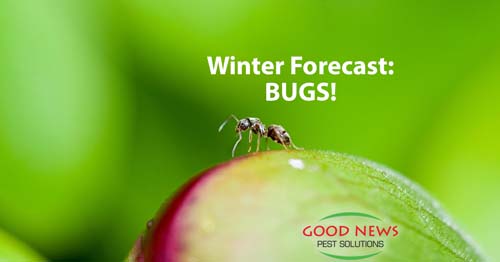 Pest Pressure Increased This Fall and Winter
If you've watched the news at least once, you've likely caught a weather report. Cold fronts, warm fronts, snow, rain, and clouds. But have you ever said to yourself, just what is a barometer and how does it help predict the weather? You're not alone. With 24 hour weather channels and weather apps on your phone and computer, you can see at a glance what the weather will usually be like. But in years past, normal people besides meteorologists consulted barometers, anemometers, hygrometers and, of course, thermometers to predict the weather, based on patterns, and consulting annual trends in the Farmer's Almanac. The barometer measures atmospheric pressure, and according to the trusty almanac, higher pressure means better weather is on its way, while a lower barometer reading means we're probably in store for a bit of rain.
So What's Pest Pressure?
Like the old school weather barometer, scientists can also predict the activity and "pressure" of insect populations. By looking at the weather of the past 6 months and the predicted weather of the future, entomologists can determine what the future has in store for various parts of the country. Unfortunately, this year doesn't look good.
Pest Pressure Rising
Unlike the weather barometer, high pressure is not a good sign on the National Pest Management Association (NPMA)'s semi-annually published Bug Barometer. Unfortunately, due in part to Tropical Storm Alberto and Hurricane Florence, our mosquito population in particular is expected to have a big boom. The rain both from our typical summer storms as well as an unseasonably wet springtime is expected to dramatically affect our termite and ant activity this winter as well. You might have already seen signs of the rise thanks to our warmer and wetter autumn. The one plus? It looks like we'll see slightly below average populations of cockroaches and rodents over the next several months. You can see the breakdown for the whole country here.
It's Time to Prepare
The other good news is that there's still time to get your home treated before the pest pressure really pops. We're happy to send one of our highly trained technicians out to your home and do a home health check up inspection to start protecting your home from the all-but-inevitable ant and termite infestation that affect nearly every home in Florida. We can start you on our world-class household pest protection – or for only a few dollars more a month, we can start you on our most comprehensive Term Assure 365 that protects your home year round with our Go Green Plus 3 and a $1-million termite warranty for qualified homeowners. Term Assure 365 is our most popular service from Bradenton to North Port, and like all our services, is 100% organic and reduced risk to keep your family safe. For more details, just give us a call!
« Back to Blog