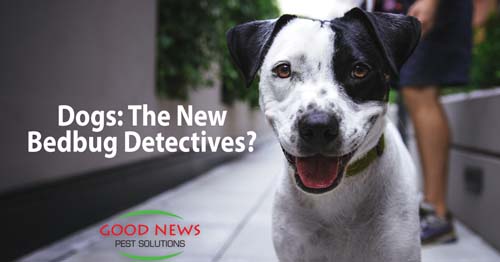 Fighting Bedbugs with Dogs?
Between Thanksgiving week and the first week of the New Year, a lot of people are travelling. In fact, AAA predicts one in three will travel over the holiday season this year, breaking the record from each of the previous two years. In case you were wondering, December 20th looks like the worst day to begin your cross country jaunt. Some people are doing all the driving in a day, but a majority will be flying, taking a train, or staying in a hotel at some point along their journey. These are all places where bedbugs can hibernate until they find a source of food and follow it home.
Man's Best Friend Reason #237
Luckily, there's a new weapon in the search for bedbugs—dogs. Dogs can be trained to use their acute sense of smell to ferret out drugs, bombs, dead bodies, and now, bedbugs! These canine exterminators are making waves because they can smell the bugs— or their leave behinds— faster than a human eye can detect them. The dogs are being trained and tested and are available most everywhere across the country. So, let's go over what you can look out for to avoid a bedbug infestation.
In Your Hotel Room
Leave your luggage in the bathtub while you inspect the room. Bedbugs cannot crawl into or out of tub, so your luggage is safe there.
Pull back the sheets and comforter and look for the tell-tale signs—dark red stains, often about the size of a piece of rice, discarded bed bug skins, clustered eggs, and of course, bed bugs themselves. Even if it looks like they're dead, bedbugs can hibernate for quite a while until they find food. So don't take any chances.
Check the headboard and lift up the mattress and look underneath it. You can use the flashlight on your phone to check hard-to-reach crevices and cracks.
Check the area directly around and under the bed.
Check the rest of the room, especially if you have a suite or your room has any additional furniture like a couch or easy chair. Double check any cloth furniture, pillows, cushions—anywhere a bedbug could hide! Don't neglect the nightstands, AC/Heating units, TV stands, and dressers.
On a Plane or Train
It's more difficult sometimes to check these areas, but look at the cushions and seams for live bedbugs and the dark reddish brown stains they leave behind. You can also invest in a special seat cover for your traveling needs.
In Your Home
Be sure to wash all of your laundry as soon as you get back. As we've noted before, bed bugs love to snuggle down into dirty laundry. Check your suitcases for infestation. And if you do discover an infestation has followed you home, call a professional, right away! Bedbugs are really difficult to get rid of and you need someone who's properly trained to handle them. Here at Good News Pest Solutions, we have the best and most effective methods of dealing with bedbugs and many other annoying insects. And we have thousands of customers from Ruskin to Punta Gorda that confirm it. If you'd like to learn more about any of our products and services, just give us a call!
« Back to Blog