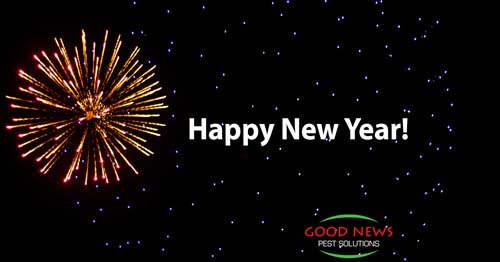 Looking Forward to 2019 with YOU!
It seems like just yesterday, we were ringing in 2018, and now, we're all a year older and hopefully a bit wiser! And 2019 isn't just another year for us, either. We are celebrating our DIAMOND Anniversary this year! Thirty years ago, in 1989, Good News Pest Solutions began as Macy's Termite & Pest Control and it's been an incredible adventure since then. We look forward to many more years of serving you...
Step By Step
2018 has been a year of growth and expansion for us in many ways. Thanks to our customers' enthusiasm to share with their friends and neighbors about the high levels of service they've come to expect, we happily expanded our teams of highly qualified technicians, added more support staff and grew our management team. Our extended family of employees now numbers over 40.
Blessed to Give Back
We're also proud to say that we were able to increase not only our charitable giving to a new level, but we also were able to multiply our blessings by supporting even more non-profit ministries. We believe this business is a tool from God to reach out to people who otherwise may not have felt the presence of Christ in their lives, and we're happy to say we regularly support almost 40 ministry organizations dedicated to making the world a better place. We also are happy to take prayer requests for anyone through our website – whether they're in our area or not; whether they follow Jesus or not.
Stewarding the Earth
In 2018, we dedicated a significant amount of our resources online to helping people find ways to live greener, more sustainable lives. That came out of our own commitment to be good stewards of the planet God has blessed us with. We built our reputation as an industry leader in pest control by implementing the most risk-reduced, 100% natural pest solutions available. We've found they're also the most effective, while keeping your family and pets safe. We're continuing that commitment in 2019. You probably noticed that we already launched a brand new website. We're also rebranding and repricing many of our services to better reflect their purpose and value. We want to assure our customers, old and new, that we remain unswerving in our quest to provide affordable, green pest solutions to families all across the Gulf Coast of Florida, from Sarasota & Bradenton, to Punta Gorda & Ruskin. All of that will be rolling out shortly, but if you'd like to learn more, please don't hesitate to give us a call! And, hey, we know some of you have been with us since the beginning. We'd love to hear from each and every one of our customers how you found Good News Pest Solutions, how long you've been a customer, and any stories you have of your experience with our staff! Think of it as an Epiphany gift to us!
« Back to Blog