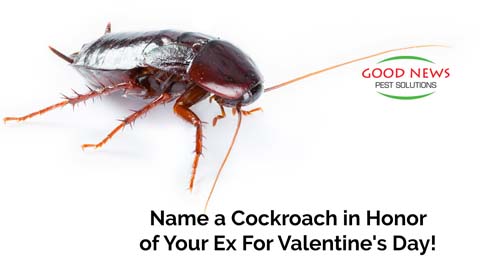 Creative Ways to Recognize Your "Ex" on Valentine's Day!
There is no shortage of creative ways to express your feelings of affection for another person these days. You can make a donation in their name, buy a goat for an impoverished village, or have a star named after them (or can you?). As you might have guessed from the title, this ain't one of those things. Instead, the Hemsley Conservation Centre in Great Britain has come up with a way of capitalizing on the "Black Thursday" aka, Singles Appreciation Day, trend of recent years.
What's Love Got to Do With It?
Following in the footsteps of restaurants like Hooters, the zoo has come up with a much more down to earth way of "recognizing" your ex's this Valentine's Day, all the while helping a good cause. For a small donation of $2.00, you can have a cockroach named for your ex. The Centre will post all the names on their "Roach Board" for Valentine's Day. Now, you won't get to stomp on the namesake of the person who broke your heart. But you'll have the pleasure of knowing that any of their future dates' Google searches will have an interesting impact. You'll also get a digital certificate. All the proceeds from the Name a Cockroach Programme (it is in England) go to help the zoo maintain and expand their exhibits and animal population. Just be sure to do it now. The Valentine's program closes on Sunday, February 10.
Love Bites
However, if you'd like to go the other way, just like everything else on Valentine's Day, it's gonna cost you more. The New York Bronx Zoo, home of the Madagascar pals, offers a program where you show your undying love by naming a cockroach in honor of your significant other. It's just a small fee of $15. Hey, that's still cheaper than roses and chocolate. And if you're looking for a slightly more affordable Blattella germanica, you can hit up Zoo Boise in Idaho. Those cockroach names go for $10 a, well, head. And you never know, there might be an animal refuge or zoo closer to you with a similar program.
Love Solution (tell it, spread it)
Of course, here at Good News Pest Solutions, we can understand if you don't even want to think about cockroaches, or their close cousins, our flying Palmetto Bugs. That's where we come in! From our basic Perimeter Plus Program to our more comprehensive Custom Solutions, we take care of all the major creepy crawlies that try to invade your house so you don't have to worry about them. We treat our client's homes and businesses from Sarasota to Port Charlotte 3 times per year. We use the most effective risk-reduced products to keep your family safe. And we're always ready and willing to make a return visit if something pops up in between scheduled visits. To get more information or a quote, please give us a call!
« Back to Blog