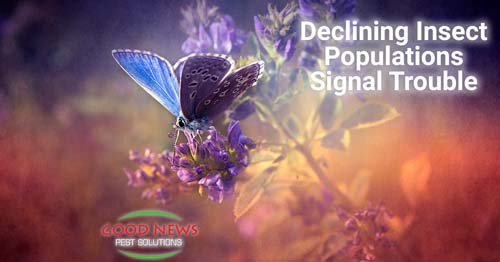 Declining Insect Populations Signal Trouble
For the past 30 years, one of the central components of our mission here at Good News Pest Solutions has been to not only provide the most effective pest solutions, but to do so while acting as God's stewards, striving to protect and enhance our planet. Which is why we only offer 100% natural, risk-reduced pest solutions to our customers. Instead of killing off or sterilizing mosquitoes, we recognize their place as pollinators and use natural means to turn them into vegans. Rather than promoting pink fiberglass insulation that's as dangerous to your family as it is to the planet, we offer a more effective recycled paper solution. But sadly, not everyone sees things the way we do.
Insect Protection
You've probably already seen in the news – since the early 2000's, scientists have been tracking wild fluctuations in both honeybees and bumblebees hives. Some reports say the bee population has declined more than 50% in the past 70 years. Thankfully, some species of bumblebees that are more resistant to pesticides are slowly increasing. Fewer bees mean less pollination and could radically affect our sources of food. Also worrisome is a growing trend in the rain forests of Puerto Rico & Australia. Declines of insect populations there appear to have already triggered a change in bird migration patterns. The birds, lacking a reliable food source, are rerouting elsewhere. And that's not even taking into account the amphibians, fish, and reptiles that also use insects as their food source. Another study identified a radical drop in butterfly and moth populations over British farmlands.
Analyzing the Data
Recently, two researchers did an extensive review of several studies. They were forced to admit that their data was not as all-encompassing as they hoped (very little is known about many flies, ants, aphids, shield bugs and crickets); they believe the evidence points to a potential global disaster. Their conclusion – we need to significantly reduce our reliance on pesticides, especially in agricultural areas. They also recommended taking steps to regrow and replant the ecosystems that the insect population relies on, so that we can continue to rely on the insects. Good News Pest Solutions is humbled to be leading the way in reducing harmful pesticides on the Gulf Coast of Florida, from Bradenton to Punta Gorda. If you'd like to learn more about the treatments and methods we employ at Good News Pest Solutions to control insect populations in your home or business, just give us a call!
« Back to Blog