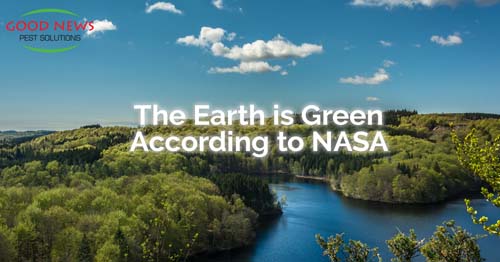 NASA Reports Earth is Greener
It seems every time the environment is mentioned these days, it's bad news. But, thanks to some long-reaching NASA satellites, we have some good news to share! According to a recent report from the National Aeronautical and Space Administration, our planet is literally, quantifiably greener than it was just 20 years ago. And humans are the ones largely responsible.
Looking Down
In 1999, a satellite named "Terra" was launched into space. It was equipped with a Moderate Resolution Imaging Spectroradiometer (MODIS). All part of an effort to determine how the planet was changing and what the consequences could be for life on earth. The similarly equipped "Aqua" joined it a couple years later. Together, the two satellites take as many as four shots of every place on Earth, every day, with MODIS. At first, scientists studying the MODIS images believed they were seeing normal changes in the climate. But as their data increased, it became apparent that humans were also influencing the results which were slowly, but steadily improving over the years.
Putting Down Roots
A massive tree-planting drive in both China and India are to blame for the largest growth in leafy greenness across the globe. Both countries have striven to increase agricultural production and establish more trees in their countries. In 2017, volunteers in India broke their own world record, by planting 66-million saplings, in a mere 12-hours time. This is despite those two countries sprawling populations. India and China account for almost one third of the increased greening. But they only contain 9% of the entire planet's land area that's covered in vegetation. Both countries have experimented with multiple cropping practices. These programs increased their food production between 35-40% in the last two decades, while using the same land area - another reason to be hopeful for our future. There was another surprise in store. Researchers discovered that the greening expanded on its own once the trees had been planted. We now boast more than two million square miles of extra green leaf area per year, compared to the early 2000's. That's a 5% overall increase – the equivalent of doubling the Amazon rain forest!
Not Out of the Woods Yet
Scientists warn we could slide back into the situation we saw in the 70's and 80's. We still haven't recovered from the loss of tropical vegetation in areas like Brazil and Indonesia. Attention must be paid to maintaining the green leaf areas of the planet. And everything we can do as individuals to live greener will help broaden that impact. Green is something we understand here at Good News Pest Solutions. We spent last year diving deep into more ways for each of us to live greener. And for 30 years, we've led the pest control industry in finding and developing chemical free, 100% organic, reduced risk solutions – safe for your family, your pets and the environment. Our highly trained staff is happy to explain our green pest solutions, or share with you the stories of our happy clients from Apollo Beach to Port Charlotte. To learn more, just give us a call!
« Back to Blog