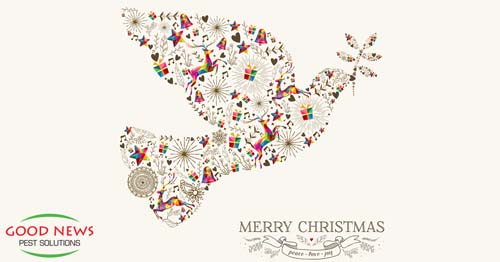 Merry Christmas and Happy New Year!
2019 has been a year of tremendous blessings, sorrows, experiences, growth and just about everything you can imagine. We are grateful for the multitude of people in our life...friends, family, customers and everyone who joined us in celebrating our 30th anniversary. Here's to 30 more years!
Just for fun, if you are looking for a neat cookie to make with your kids, why not try this recipe for Easy Stained Glass Holiday Cookies? They are so pretty, you can hang them on your tree, use them for a cookie exchange, or just enjoy them with your holiday dinner!
Ingredients:
10 pieces clear hard fruit candies (unwrapped)
1 roll (16.5 oz) Pillsbury™ refrigerated sugar cookies
1/4 cup all-purpose flour
Directions:
Heat oven to 350°F. Line cookie sheets with cooking parchment paper. Place 2 to 3 candies of the same color in small plastic bag; seal bag. With hammer or flat side of meat mallet, gently pound to crush candy. Repeat with remaining candies, using several different colors.
In large bowl, break up cookie dough. Mix in flour with spoon or hands, until well blended. On lightly floured work surface, roll dough 1/8 inch thick, using additional flour as needed to prevent sticking. Cut out dough with floured 3-inch cookie cutter. With smaller cookie cutter (1 1/4 to 1 1/2 inches), cut out center of cookie.
Place large cutouts 2 inches apart on cookie sheet. Place 1/4 to 1/2 teaspoon crushed candy in center of each cutout cookie, making sure candy touches edges of cookie. (Do not mound candy in centers of cookies.)
Bake 6 to 9 minutes or until edges of cookies are light golden brown and candy is melted and fills center of cookie. Cool about 10 minutes on cookie sheets or until candy is hardened. Remove cookies from cookie sheets to cooling racks. Cool completely, about 15 minutes.
On separate ungreased cookie sheet, place small center cutouts. Bake 4 to 6 minutes or until light golden brown. Cool 2 minutes; remove to cooling rack to cool completely.
All of us at Good News Pest Solutions wish all of you a very Merry Christmas and a blessed New Year. May love and peace surround you and those you love this holiday season and may the coming year bring you health, prosperity and much happiness.
« Back to Blog