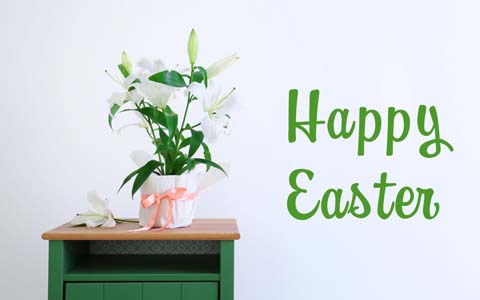 Happy Easter - To New Beginnings
None of us could have expected this back in January when we celebrated the start of the New Year. We heard the first reports coming out of China of a new flu-related virus. But who knew it would be having such an impact on us as we prepare to celebrate Easter Sunday.
Remember, on that very first Easter, the disciples, the closest followers of Jesus, were gathered indoors, dealing with fear and uncertainty. How wonderful when they learned that death had been defeated, that perfect love cast out fear, and that the love they had known must now be shared with the world.
We are still called to share that love.
Our mission here at Good News Pest Solutions is to bring the good news to the world. So we want to remind you that Easter is the celebration of Christ's resurrection from the death that bought our freedom from the penalty of sin. Even in the midst of Coronavirus and sheltering at home, Easter still offers us hope and a new beginning.
While church doors won't be open, we encourage you to join in virtual worship with one of the many churches offering multiple services online. Some churches are also offering "drive in" worship services.
If you are still being paid or can afford it, please consider making an online donation to churches and other charities that are working to help the less fortunate at this time.
If you're in need, reach out to churches. Many of them are expanding their food banks or supplying grocery store gift cards to those who are struggling to feed their families in this time.
For those who can afford it, many stores will deliver Easter basket items along with necessary groceries.
You don't have to rely just on church services. You can read the Easter story aloud to your family just like you would the Christmas story on Christmas morning. (Matthew 26-28, Mark 14-16, Luke 22-24, John 18-20, or for a brief summary from Paul, I Corinthians 15: 1-11). Afterwards, you can have a family prayer for a swift end to the virus with as few deaths as possible.
Even though you're at home, you can have a personal Easter egg hunt in your own backyard. You can use FaceTime or Skype to enjoy a virtual family dinner while staying safe.
Yes, this is a time of confusion, worry and stress. But Easter Sunday can still be a celebration of the hope we have and our looking forward to new beginnings, in spite of COVID-19.
Since pest control is still an essential and health-related service, we will still be here, if you need us. All outside treatments will continue as scheduled. Our hope is that you find joy and peace in the midst of these troubled times.
From our family at Good News Pest Solutions to yours, have a Blessed Easter.
« Back to Blog